Dear Charles,

Time was so fast,now it's in May of 2013.These days,the trees blowballs like snow fly
in the air.It's dry and more dusts fallow the big track,long time no raining.

The road's constructing was confirmed,the villagers start constructing new
temporary buildings for get more compensations from the government .Even they
know the compensation is very small.Some buildings never used,but it will be
destroy.The government never asked us if we want to move and we don't know
where we are going.The grocery's owner Wang Gaoqi faced he will lost his grocery
and home,he lost the hope in his life,so he sleep on the bed two weeks.

I invited Lu Daode the old painter in the village to paint Sol LeWitt's two "Wall
Drawing" with me.He is seventy now,he had worked on the patterns of furniture and
ancient buildings,now he is drawing the jinni for living.At first he refused me
because he never like the art from the west,even he disgusted them.Maybe as my
sincereness,or I told him I will pay him the salary,he received my inviting.

We finished the wall drawings and we enjoyed our collaboration.He is serious and
professional in the works.He was so glad as we call him "master Lu" and he drinking
more in every night's dinner, we were exchanged our attitude and experiences in
art.He like the two wall drawings and interested more information about morden art
history.The villagers were viewed our works and told us they can not understand
these art,even they think they are beautiful.They can not received it just because
they can't read the story from it.

The two wall drawings coved some dusty after some days,it's more harmonious in
the village.people have accommodated it and not discussed on it.


We hosted a "Weekend Cinema " in A Library,we displayed two films in Saturday and
Sunday's afternoon.The children do not like serious art film,they like animated
films.At first I complained them and then I received this reality because we faced
their grow environment,not the children.We collected more good animated films for
them,so Weekend Cinema's audience more and more.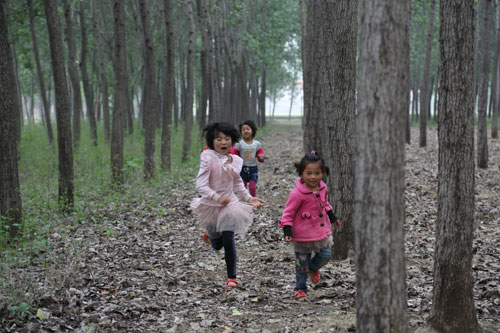 Ellen Zweig,artist and poet based in New York have a visiting in Qiuzhaung
Project,she made a picnic for the children out of the village,she made the west food
with our vegetable and food.More than 40 children and some adults shared the
foods with Ellen and communicated use their ways. It's their fist time take part in the
picnic party and share the time with a foreigner.

More children like A Library,but adults less.One side,they are busying get more
money and no time come to library.Another side,they think reading is children's
work,not about them.

My father told Ellen that he was proud as he has a son like me,that time, I felt so
warmly. My father never understand me and don't support me in my art career.I had
try to communicated with talking,but I failure.Now I realize that it's so important I
come back and working beside my father.My father start understand me as his
experience in my arts and behaviours. The experience is so important in art,it's hard
to receive a new ideology if no experience.It's same,people in the village start
receive the library and me.I start construct a relationship between me and the
villagers.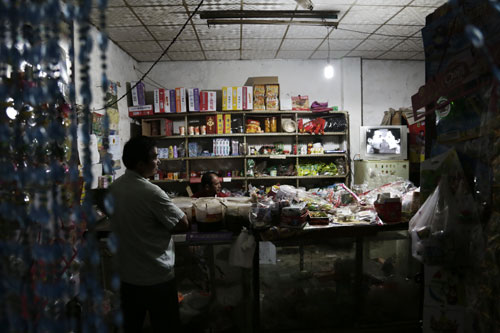 We designed the poster of Ulay/Abramovic like the business advertise beside the
road,they are rude and directness,harmony with the village.We were pasted them on
the wall beside the road and mixed them in the business
advertise.Ulay/Abramovic's performance video was displayed in Wang Gaoqi's
grocery,mix the goods and food's smells,it's wonderful,they are belong to
here.Wang Gaoqi,the owner of the grocery looked them all days and he start think
about what their meaning.A woman can not received the performance as they were
naked.So Wang Gaoqi closed the video when she shopping,he opened it when she
left.The villagers always asked me what's meaning of this arts,they can not
understand why they are art,and they hope I write the meaning on the posters.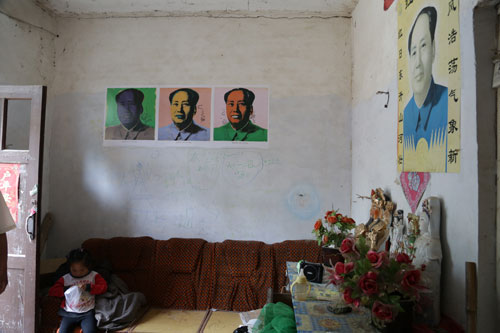 My father start tension as I printed Aday Warhol's Mao,different colors on Mao's
face,he worry about the authorities will give me trouble as I insult our leader.
Same,the printery was tension also,they don't allowed their name in the poster and
don't let me film it.I know,we are live in the communist country,people are afraid of
freedom as the hypercritical political,they are habit to self-examine for protecting.
I liked these pieces,so I want send Mao to every family in the village.It's
unexpectedly that more people don't like the three pieces,they don't like the colors
on Mao's face.It's interesting,the same portrait of Mao,people don't like it just as
the colors;same pieces,the fate is different in China and the West.
I know people need more time to receive a new thing,it's a process.It's a challenge to
villager's bounds in concepts.I believe they will like Andy Warhol's Mao in the
future.

A journalist asked me that if art can change the society,I said: " I think art is so small
and so disability when it want change the world,benefits always drived the world's
running.I'v never extravagant hope my art can change my village,I just hope these
art can take more pleasure and good memory to people,to myself. "

All my best!

Li Mu
May 23,2013