LI MU - A MAN, A VILLAGE, A MUSEUM | Date :2015-09-08 | From :iamlimu.org
------------------------------------------------------------------------------------------------------------------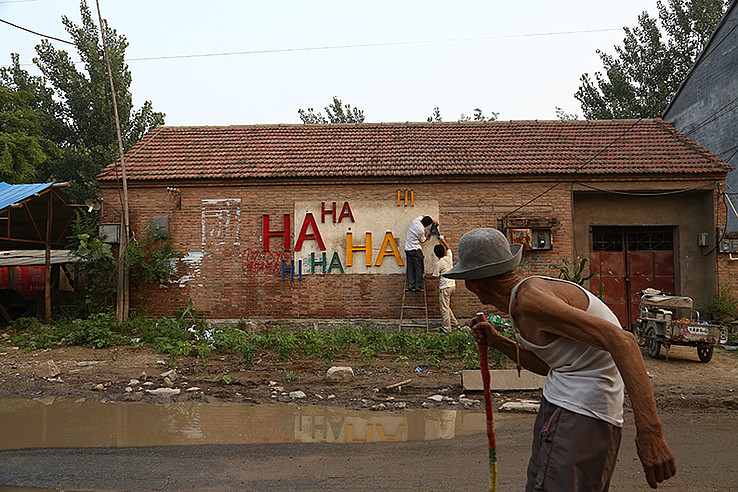 In the video installation and book A Man, A Village, A Museum, the Chinese artist Li
Mu brings the inhabitants of Qiuzhuang, his hometown, in contact with modernist
artworks from the collection of the Van Abbemuseum in Eindhoven.

The project started in 2010, after the Van Abbemuseum had worked with Li Mu in
Shanghai for the World Expo. Soon after, the artist proposed organising an exhibition
in his home village of Qiuzhuang, using works from the museum's collection.
Qiuzhuang is a village of around 1,000 inhabitants, located about 7,500km from
Eindhoven and 800km south of Beijing. It has no museum of its own and little
connection to the history of western modernity. Yet, this was the world into which Li
Mu had stepped since his education as an artist. Li Mu wanted to use this project to
bring his family and acquaintances in the town into contact with European and
American art. He wanted, in part, to try to reconcile where he came from and where
he was going—to bridge a gap that would inevitably transform both art and village in
the process. At the same time, he asked himself how the works of art would function
in this new environment, and what meaning they would take on there. For the
museum, Li Mu's idea created a new opportunity to learn about its collection. His
question concerned the value and purpose of a modern art museum collection in the
21st century, and how a museum could take on board reactions from outside its
familiar western frameworks.

After quickly rejecting the idea of shipping the physical objects to China, Li Mu set
about reproducing the artworks of Sol LeWitt, Dan Flavin, Andy Warhol, John
Kormeling, Ulay and Marina Ambramovic (amongst others). He worked together with
the villagers for more than a year, painstakingly reconstructing works and placing
them in the houses and streets of the village. The resulting film and book document
life in the village, the production of the artworks, the reactions of residents, interested
visitors and the process by which artworks and people influence each other.

A Man, A Village, A Museum has been acquired by the Van Abbemuseum and is on
show as part of the collection exhibition The Collection Now from 19 September 2015.

Publication: A Man, A Village, A Museum
The presentation includes a 288-page book about the project, featuring entries from
Li Mu's diary, conversations with residents from the village, interviews,
correspondence, and dozens of photographs and drawings. The book is published by
Onomatopee and designed by Studio Joost Grootens. The publication was made
possible with the help of Stichting Promotors Van Abbemuseum.

Curators
Charles Esche, Davide Quadrio, Christiane Berndes.

Subsidisers
The presentation A Man, A Village, A Museum is part of the exhibition The Collection
Now. This exhibition is made possible in part by BankGiro Loterij, Mondriaan fonds,
Stichting Promotors Van Abbemuseum and VSB Fonds.

For more information you can visit www.vanabbemuseum.nl.
------------------------------------------------------------------------------------------------------------------
© iamlimu.org 2011